Attention! The following is a
Research project!
Research projects are created in cooperation with our partners and are the basis for possible product developments. If you are interested in a cooperation or in the presented project, please use the contact form at the bottom of the page.

The Marburg Breath Response Measurement ...
In the MATAM project, a consortium of Hessian companies and scientific institutions has developed an automated procedure that allows standardized measurement and evaluation of hypercapnic chemosensitivity.
The method extends conventional pulmonary function diagnostics and allows estimation of hypoventilation risk in COPD patients.
MATAM II aimed to develop a certified medical device that can be used in multicenter clinical trials.

Is the Project still running?
This project (HA 207/09-07) was funded within the framework of the Hessen Model Projects by the LOEWE - Landes-Offensive zur Entwicklung Wissenschaftlich-ökonomischer Exzellenz, Förderlinie 3: KMU-Verbundvorhaben.
It ran from 10/2009 till 03/2011.
Cooperation partners of the joint project were the Sleep Medical Center of the Philipps University of Marburg, the Technical University of Central Hesse (THM), TransMIT GmbH as well as IfM GmbH and Thora Tech GmbH.
What is the Basic Principle of the procedure?
In the method, respiratory response and respiratory drive are measured in a closed, controlled system. The system can generate hypercapnic gas mixtures of definable composition, which allows the modification of only one respiratory gas component at a time.
The system is controlled by a measurement, control and regulation computer, which is informed about the system states and the respiratory physiological parameters by means of gas and pressure sensors and can intervene in the system by means of inlet, ventilating and valves to intervene in the system.
With the nostril closed, the patient is connected to the closed circuit of the system via a mouthpiece. Air flows are determined using pneumotachographs. Oxygen and carbon dioxide are measured via a respiratory gas monitor which takes a gas sample directly from the mouthpiece. Capillary oxygen saturation and pulse rate are determined using an ear pulse oximeter.
The examination takes about 30 minutes and does not require any special breathing maneuvers on the part of the patient. He can follow his normal respiratory urge.
Compared to the usual nocturnal examination in the sleep laboratory, the shorter time required promises a significantly lower burden for patients and examiners as well as considerably lower costs.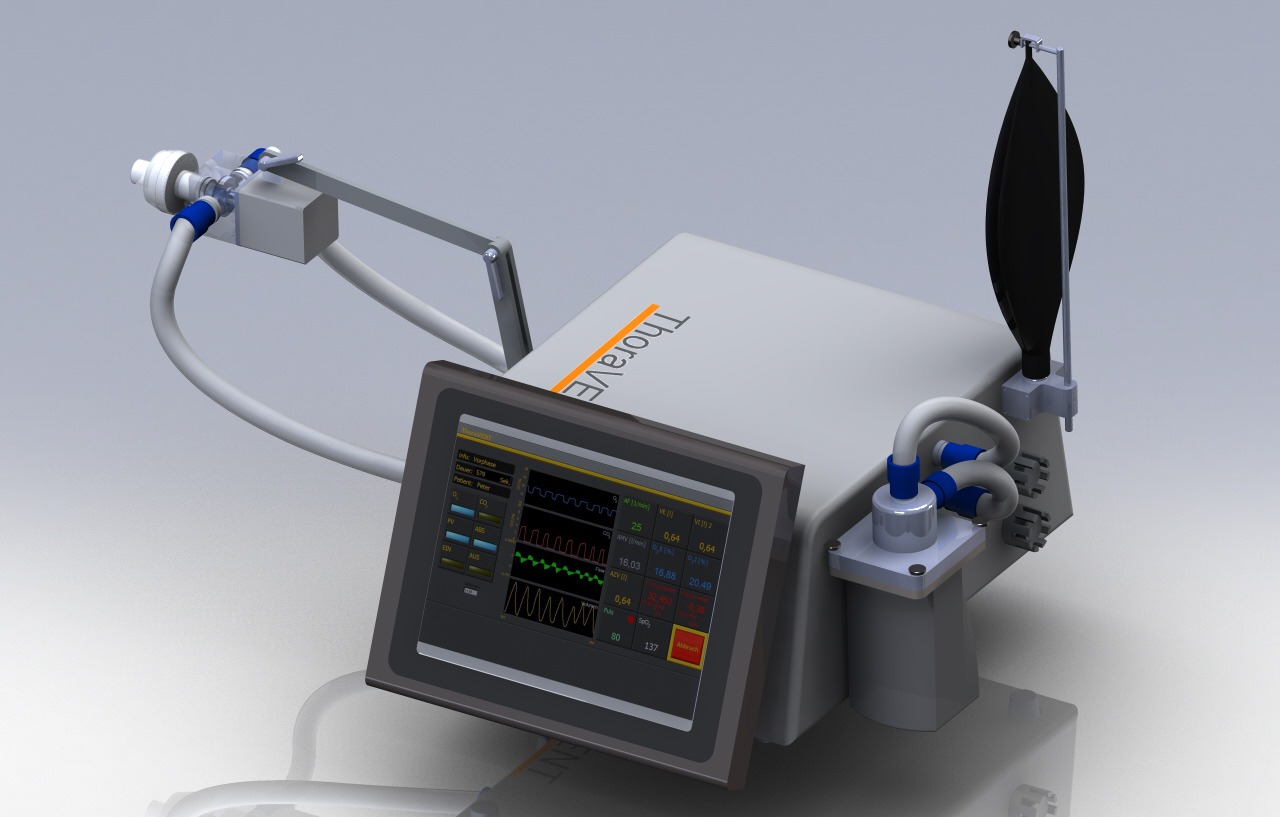 Would you like to learn more or do you have questions about specific projects? Please do not hesitate to contact us!