Quality management according to ISO 13485
What does ISO 13485 certification stand for?
ISO 13485 is a harmonized standard that formulates requirements for the quality management (QM) or QM systems of medical device manufacturers. The certification confirms the conformity of own products with the requirements of Annex VII of the Medical Device Directive MDD.
For medical devices that contain software or are stand-alone software, IEC 62304 also requires a QM system and recommends one in accordance with ISO 13485.
The approach of QM systems such as ISO 9001, ISO 13485, EFQM or KTQ is to define standardized processes that ensure that product requirements are accurately identified, products or services are developed and produced or provided in a suitable manner. To this end - another requirement of many quality management systems - companies must provide suitable resources such as employees and work equipment.
We want and have to meet these requirements and have therefore decided to be certified according to ISO 13485!

Below you will find our certificates in German and English to download for your records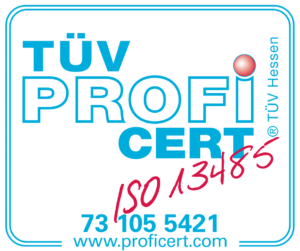 Certificate EN ISO 13485 2016 - GERMAN
Scope of Application:
Development, manufacture and service of medical devices for intensive care, pulmonology, sleep medicine and homecare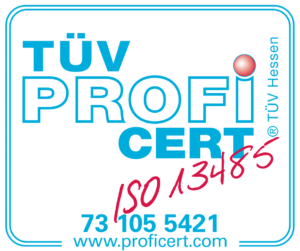 Certificate EN ISO 13485 2016 - ENGLISH
Scope of Application:
Development, manufacture and service of medical devices for intensive care, pulmonology, sleep medicine and homecare